Anthony Douglas, received a great 50th Birthday surprise Barra Tour from his wife and daughter and we joined him up with Gary & Allan Beer and one of our top fishing guides Peter Barnes.
Over-nighting on Peter's mother ship Beagle Gulf, Anthony was certainly not
going to be out fished on his 50th birthday, catching this very nice Barra
along with several others.
With all the excitement Anthony only managed to pose for one good photo.
Another man of few words, but we understand from a family member that
He Got the surprise of and had the time of his life!!
Anthony Douglas – October 2018
Gary and son Allan Beer, Gary's 14 year old daughter Laura actually won a 5 day Barra Tour in the Horsham Fishing Club's annual March 2018 competition. After some undisclosed heavy negotiations with Dad Gary and big brother Allan, Laura gave them the prize and we took them to Dundee Beach / Finniss River in October 2018. As very accomplished Fisherman they really cleaned up with some fantastic Barra and Thread Fin Salmon catches. Gary being a man of few words just said
WE HAD A BALL!!
Gary and Allan Beer – Horsham Vic – October 2018
We did it tough but I expected that. Laurie and Carol were good fun, Laurie was the lucky one with jewfish over the meter and a 68cm barra, he was chuffed. I got a queenie over the meter and a 45cm barra and 46 cm jewie. I always have fun and would dearly love to fish the runoff next time.
The accommodation at Dundee is excellent and the meals were fab!!
As usual Geoff Corry your fishing guide was fantastic as too were your arrangements! Sandy Hose – Bribie Island QLD May 2018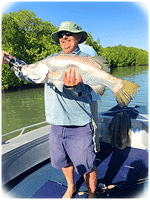 'The Orchard's Nine' Action packed, 4 day Johnson River Remote Camp, Tiwi Islands adventure
Thanks Phil. The trip was rated very good over all. A couple of days for a couple of boats were a bit slow but the guides were great and worked hard trying put us onto fish.
The cooking was fabulous although it was mentioned the crabs would be better done in salt water
I think a couple of our group may discuss going back with their family in October
Happy to look at your suggestions based on best fishing tides and available dates for next year. We hear the best tides get snapped up pretty quickly.
Lindsay Orchard (total of 9 in group) – Townsville QLD – May 2018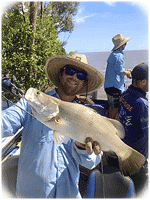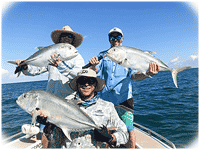 A 'great' 4 days of fishing for 10 Sydney fisho's
"Thanks for organising a 'great' 4 days of fishing the Finniss River runoff and Dundee blue water.
Plenty of Barra, Black Jew & GT's, also Lemon Shark & Golden Snapper caught over the 4 days.
Our three guides Geoff, Jason & Dean were fantastic and your organisation was spot on,
Brian Tapp – Narrabeen NSW – and my group of 10 fisho's from Sydney's Northern Beaches – April 2018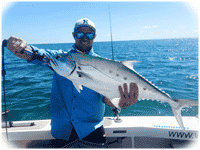 Thanks Phil for a great trip to Shady Camp!
Had a magic time with plenty of Barra caught each day!!
Your guide Jason was putting us on the fish with great results incorporating freshwater & saltwater to give us an amazing tour!
Would definitely book with you again next time! Your organisation of our Barra tour was second to none! Kevin Bell – Laurieton NSW April 2018
Had a fantastic time from the moment we landed in Darwin!!
Everything was organized for us. Geoff our fantastic guide put us onto some great barra, an unforgettable experience, thanks Phil. Ned, Ted and Bernie – Gundagai NSW – April 2018
Thanks Phil for a great trip to Dundee Beach!!
Had a fantastic days fishing the blue water with Jarrod! Metre plus Jewfish, Golden Snapper, Spanish Mackerel, Grass Emperor, Nannygai etc! Barra fishing a bit slow, but not surprising with no run-off this year! Dean worked hard for us each day trying different things! The Mud Crabs we caught were a tasty bonus! Accommodation & meals at The Lodge of Dundee were spot on!! Kevin, Robert Josh and Phil – All from NSW – April 2019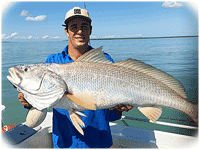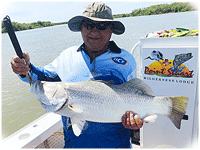 Well over 100 mixed Barra and Threadfin!!
There never seemed to be a time in our boat when someone didn't have a fish on. 4 Metre plus barra were hauled in as part of the total, not bad considering the season was meant to be a bust with next to zero run-off. Thanks Phil for getting us hooked up on such a great trip.
Glen, Robert, Andy and Danny – All from NSW – April 2019
When the going got tough, the tough got going!!
We defied the odds and managed to still catch Barra, thanks to the great guides putting us on the fish. We also managed to take home a box of other blue water species. Lance and Athol Holder – Buderim Qld – May 2019