Had a great time and Geoff was excellent as a guide and a famous one up in the Territory as I found out.
Caught a heap of barra and also some offshore beasts!!
Sandy Hose – Bribie Island QLD
June 2017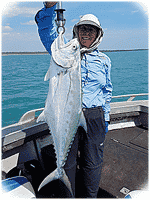 A thoroughly smooth and successful trip!!
We caught lots of Barra, Queenfish,
and many other types. Ray and Rodney Case – Long Jetty NSW
May 2017
We were very impressed with the entire trip. Jason was a great guide and he put us on to fish each day and varied the methods from trolling in the river mouth to casting in creek mouths and up in the fresh.
We had one day we will never forget with in excess of 15 90cm threadfin being boated!
Graeme Wheeler – Tomerong NSW- April 2017
Fishing was good, 87 Barra and 143 Jew, plus plenty of other fish as well ,Thanks Phil for the great organisation
Daniel McLaughlin (team leader OJ Kitchens group)
Northgate QLD – April 2017
Thanks to Phil's Affordable Barra Tours for setting us up with a fantastic guide, Dan from Point Stuart, on such very short notice and what a fantastic result!!
Philip Millauro and Tim Comer Ford – Gladesville NSW – April 2017
We had a memorable and exciting time.
We will certainly suggest the experience to all our fisher friends. Darlene & Warren Kelly – Mount Wellington NZ – April 2017
Fishing Shady Camp!!
we caught some great fish including a 98cm Barra
Thanks Phil, Had a ball mate!!
Ben Picton – Dubbo NSW- March2017
The best fishing trip EVER!! And I've joined the Top End Metre club with my 109cm barra.
Demelza North – Wollongong NSW
March 2017
It was a great trip!!
Our guide Pete was a champion and we highly recommend him.
Worst bit was it was too short!!
Eli Conroy (Group Leader) – Tighes Hill NSW October 2016 Steve Wallace (Photographed) with his 92cm Barra
We had a fantastic Arnhem Land adventure. My Barra was 107cm, Jill's 91cm (first ever) then I got a 98cm and lost two more huge girls all in the first 20 minutes
It was so good we are re-booking again for next year!
David and Jillian Lord Thackaringa Property via Broken Hill NSW – August 2016
Had a fantastic time fishing with my Pa at the mouth of the South Alligator River. Thanks to the DNA guide, Duane and the
Great Organisation by Phil's Affordable Barra Tours
Josh M – Glenhaven NSW – January 2016
Staying on Mother-ship, Beagle Gulf,
We were already on the water ready for action each day.
so we could catch beauties like this 86cm Barra we got in Tommy Cut Creek, Shady Camp Adrian Batrouney – Croydon Vic February 2016
Peter our guide was fantastic, he works hard at chasing the fish and has a very easy going personality.
The lodge accommodation was perfect!!
Many thanks for organising a hassle free trip.
Group Leader Rob McAlpine – Stanwell Park NSW
Pic: Joe Contreaus – Stanwell Park NSW – November 2015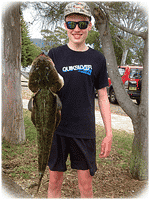 A Monster 82cm Flathead
caught by 15 year old Josh during our annual North Haven fishing tour !! Josh M – Glenhaven NSW November 2015
Phil runs a great operation!!
Service is excellent and our trip ran like clockwork.
We'll be back!!
Mark Nan Tie – Mt Waverley Vic
November 2015
Couldn't have asked for anything more
If it was easy it would be called catching. We had a ball and a trip we will never forget and even though the fishing was tough we all landed nice fish and we managed 2 meteries and one Barra that got away which would have been huge a 94cm and some smaller ones.
And both guides worked extra hard to land us fish and we got quite a few good
Threadies to eat. We came home with a heap of fish to eat and smiles on our
faces.
The crew of the sundancer were unreal and provided us with everything we needed. Gabbi nailed the food every time and Dave was an awesome Captain.
Would be happy to recommend your company to anyone that asks about our trip.
(Photos courtesy of Mr Joel Bassett)
We were all very impressed with Peter, your guide, top guide, great boat, top quality fishing gear and a really nice bloke. Thanks again for putting this together, it was
seamless and very easy to manage from our end
John Piotrowski & Lindsay (Stewart) Cordner Rowville Vic – March 2015
Great weekend at Shady Camp
with the very knowledgeable guide Glenn Watt. We caught a few keepers but will be back to try Dundee with you next time.
Anthony Quach and Alvin Low – Revesby NSW – February 2015