Total of 4 Barra tours with you now Phil and have never had a dull moment. I have experienced some of the greatest fishing times in my life during your tours and…
Can't wait till I can go again, maybe 2010!!!
Please send me available dates.
Ken Rutledge – Laurieton NSW
This 2003 Daly River Barra Bash was the best fishing tour
I have ever been on thanks Phil! To quote General Macarthur's famous words,
" I shall return"!!!
Ken Gill – North Haven NSW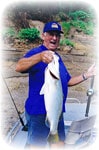 It was love at first sight!!!
Thanks Phil for a great time everything you organized went like clockwork.
Bruce Bailey – Bundaberg QLD.
Had the time of my life on The Daly River Barra Tour, 2003. Thanks Phil for the great arrangements from Mascot to Darwin,
the Daly River and return…
It never missed a beat!!!
Craig (Turn it up) Norman – Sydney NSW.
Letting my first one go, broke my heart,
BUT THIS ONE'S A KEEPER!!!
And catching it was more fun than the "other thing" blokes love doing best, thanks Phil.
Bruce Bailey – Bundaberg QLD – 2003
I've fished most of the big offshore tournaments Australia wide but your 2001 Barra Tour on the Daly River was right up there with my greatest fishing experiences.
Had a Fantastic time!!!
thanks for your excellent arrangements Phil.
Bob Tonge – Nelsons Bay NSW
G'day Phil thank you for another great fishing experience, Corroboree Billabong was magic fishing but this last trip to the Daly River I think may of even been better. We seemed to get bigger Barra and more of them.
Will be back in touch next year!!!
Regards Geoff Saul – Baulkham Hills NSW
If they have never hooked a Barra people don't know what they're missing! Barra are the most terrific fighters and the best part is letting them go again…. well not all of them, a man has to eat!
Thanks Phil for a great fishing experience!!!
Ken Rutledge – Baulkham Hills NSW – 1998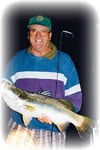 Our first Barra Tour with Phil in August 1998.
Had the greatest time of our lives we even got to go night fishing in Corroboree Billabong
U-N-B-E-L-I-E-V-A-B-L-E, we'll be back!!!
Ken Rutledge & Geoff Saul – Baulkham Hills NSW