I couldn't get over the incredible beauty and diversity of the Territory. Thanks Phil for opening my eyes to this and
The Greatest Fishing Adventure !!
Ross Roderick – Newcastle NSW – April 2010
My second trip with you Phil and had the time of my life….
Thanks see you again soon!!
Peter Wilde – Kenthurst NSW – March 2010
Hi Phil, what a magic way to spend a few days…
Are you also able organise leave passes from the wife?
Only that you organised everything else so well.
Cheers Adam Ryall – Tamworth NSW – March 2010
HI have been a professional fisherman all my life and there's not much I haven't caught but your
entire Barra Tour was a pleasure to be part of
Thanks, Jim Gill – Laurieton NSW – March 2010
Another fantastic Barra Tour with you Phil,
they just get better and better!!!
Please put me down again for next year.
Ken Gill – North Haven NSW – March 2010
Thanks Phil, the blue water off Dundee was as good as you said it'd be…
Lots of Tuna & Mackerel but nothing came close to the taste of this Emperor!!!
Cheers Dallas Paine – Inverell NSW – March 2010
Thanks Phil, the greatest fishing adventure of a lifetime,
and the crown for the first threadfin of the trip is mine!!!
Regards Bob Moore – Seven Hills NSW – March 2010
Hi Phil, Just a short note to
thank you for putting this smile on my face!!!
I had the time of my life on your Barra Tour and can't wait to go again.
Cheers Warren Arnott – Baulkham Hills NSW
Hi Phil, just a few lines to thank you for a magic Barra Tour,
I had the best fun I've ever had standing up.
Cheers Peter Peterson – Seven Hills NSW
We had a Great time on your tour!!!
and just wanted to say thanks for everything.
I am sending you a few photos that I can't believe are me actually holding fish!
Best Regards Brenden Saul – Toongabbie NSW
Thanks for a fantastic fishing trip Phil, this little guy was my first Barra and I released him to fight another day. The big fella I caught later we were too busy to photograph.
I loved every minute of your Barra Safari!!!
Regards John Hagger – Sunshine Coast QLD
Hi Phil, this was not only my first Barramundi but my first real worthwhile take home fish. We had the greatest time ever on The Daly and will recommend your Barra tours to all our friends.
Will see you again in 2011!!!
when we get our next leave pass from the wives.
John O'Neile – Carlingford NSW
Phil, this was my fourth tour with you and they just get better and better.
Please include me in your next Barra Tour!!!
if you have space available for any in the 2010 wet season run off period.
Ken Gill – North Haven NSW
Blue water fishing tour with Phil at Dundee beach.
What a catch!! Five of these massive Jewies between three of us plus "some of us" caught Barra in the Finniss River…
A fantastic fishing experience!!!
Ivan, Peter and Ken – Barra Bash 8 tour group – May 2008
So I didn't catch a Finniss Barra on Phil's Dundee Barra
Bash tour…
but who cares when you can catch Blue Water Jewies like this!!!
Ivan Heckenberg – Coffs Harbour NSW – May 2008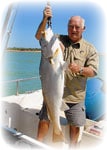 Jew Fish yesterday and Barra today…
This Dundee Tour was a "reel" blast. Thanks Phil!!!
Peter Wilde – Kenthurst NSW – May 2008